I think this will be my second last batch of cookie making. Till then, I will have to wait till 7th Jan for my cousin to come over to teach me how to bake her version of pineapple tarts which we all adore.
Initially I wanted to try
Fried Green Pea Cookie
which is so raved about that I just to try it. I love peas. I love it in practically everything.
For the fried version, I love it coated with wasabi. Yum. I might give up baking this. I waited for an hour for a baking supply shop to open as I don't really fancy going down there in the afternoon as it is hard to find a parking lot. Also I didn't want to go home and then out again just to pick up a bag of flour.
It was a mistake as I should have called them the day before. They are out of stock for this item. Then I went to a nearby supermarket to look for it and it too was out of stock.
Luckily I finally managed to find some in a supermarket. Phew .... not regrets getting out of the way just to make these. My friend, AL and all of us are so in love with this.
Definitely a keeper!
Fried Green Pea Cookie
rocks
Source : Alan Ooi
What you need:
130gm deep-fried green peas (milled) without coating
100gm icing sugar
1/4 tsp salt
150g plain flour
100g groundnut oil
Method
Preheat oven to 170 ˚C.
Sift icing sugar and plain flour into a bowl.
Add all other ingredients and mixed well except the groundnut oil.
Add in groundnut oil and mix to form a dough.
Roll dough in between plastic sheet and cut out cookies.
Bake for 15-20 mins till well-baked.
Cool on rack and store.
*************************
So stay focus..... Two years ago, my baby sister gave me a set of beautiful cookie press. I never really had a chance to use it because I already owned two sets.
One I bought it and the other set from my mom. With three set of cookie press, I seriously think I must make full use of them.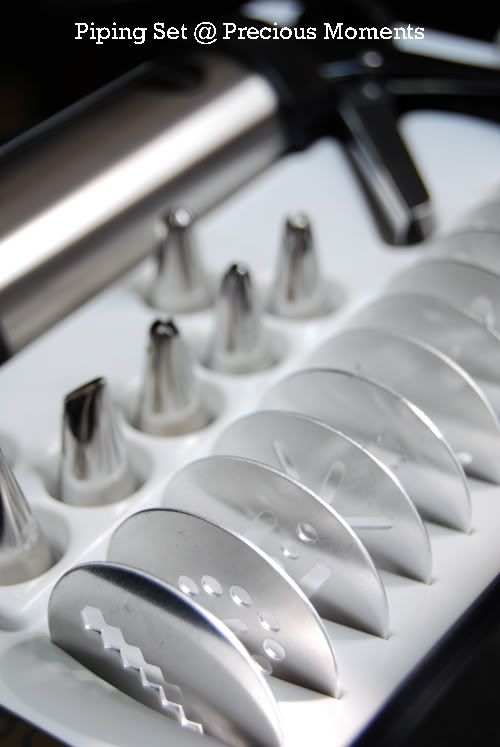 Heard about
Dragon Cookies 龍餅
and I wonder how this taste like. Just nice to put my "new" toy into good use, if not, I am sure my sister won't be too happy.
Luckily I have the piping set, if not I think I will have to double the time to pipe these "dragons" out. Comparing to Kueh Bangkit, I like this more.
Verdict: Will definitely make these again. It has a melt in the mouth texture and not floury at all.
Only set back, it takes time to pipe them out.
What you need:
150g butter
150g icing sugar
2 egg yolks
1 egg white
1/2 tsp vanilla essence
350g corn flour
30g milk powder
60g plain flour
2 – 3 tbsp milk Red colouring, diluted (for the eye)
Method
Sift corn flour, milk powder and plain flour together. Set aside.
Beat butter, icing sugar, egg yolks, egg white and vanilla essence until creamy.
Then slowly stir in flours and mix well.
Add in 2 tbsp of milk and blend well. If the dough is still too dry, add another 1 tbsp.
Fill batter into piping bag with a star tip and cover the rest of the dough with a damp cloth over the bowl.
Pipe dough and dip a little red colouring to represent the "eye".
Bake at 160 degree C for 15- 20 minutes.
*******************
I also wanted to try something new. I decided to use Bamboo Charcoal on my pineapple tart. Imagine a golden "nugget" amidst a black back drop. Perhaps black is my favourite colour. I think this will look awesome. Dynamic for the year of the Tiger. hehehe.
Unfortunately, my pineapple jam is not golden enough to really bring out the colours I have in mind. You like my
Bamboo Charcoal Pineapple tart
? mmm.... perhaps i need to give it a more auspicious name. Any suggestion?
Note:
Pardon the picture quality, the tart is black. I don't know why it turned out blue-ish. Okay enough for the day, I am tired.
Oops, I think I side tracked again. Now I have two additional cookies on my list. Maybe I will do the rest tomorrow.