Will dialect goes extinct with the next generation?
Though my son can't speak fluent Cantonese but he is able to comprehend. My daughter, whom she didn't stay long enough with my parents, can't comprehend but I suspect she did pick up a word here and there.
My husband who grew up in a Malay village is able to speak fluent Malay. In fact, he is such a linguist that he can speak 7 languages including dialects. Smart isn't he?
For me, I am the hopeless one at home. Besides Cantonese, English and Mandarin, I am clueless with other dialects. I think I am the only one that can't understand Hokkien nor Teochew in my family. Even more hopeless is that I actually married a Teochew but my father in law speaks to me in Cantonese or English and my mother in law to me in Mandarin.
During the Lunar New Year visiting, a hot topic that popped out was dialect. For this generation of mine, we are still able to converse in our own dialect but for our next generation, they know nothing about this dialect.
I think eventually our dialect will die with us as our next generation no longer speaks a word.
To think about this, it is actually sad, isn't it?
The weather is getting hotter by the day. Today is also the last day of a 15 days celebration. I think we had enough of munching on all those Lunar New Year goodies that are loaded with tons of calories. I am sure our yin and yang elements in our body are totally off balance.
With hubby just came home last night from a cooler climate, I thought it will be a perfect timing for us to have a bowl of
Green Bean Soup with Rue (臭草)
to balance back the chi in our body.
Rue is commonly used to flavour green bean soup. It is botanically known as Ruta graveolens. Many years ago, I did try to grow it but being a temperamental plant, it didn't survived.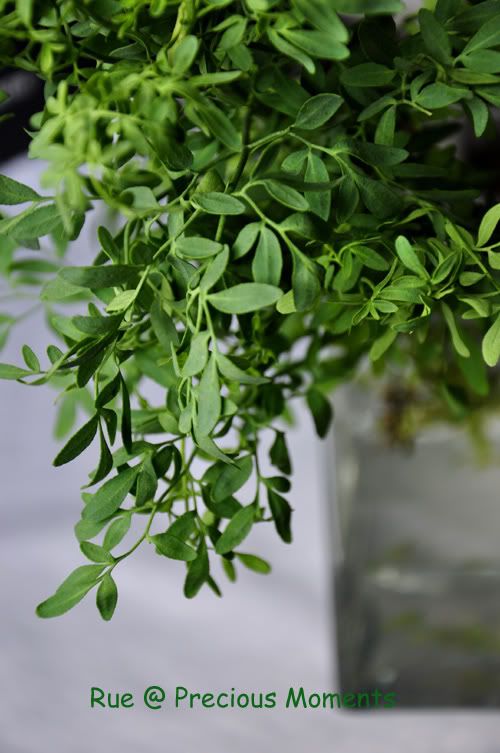 This plant is not commonly found in wet market and thus many vendors do not use this herb in their green bean soup. I have to go down to Chinatown to look for it and it is not cheap either. I guess because it is hard to cultivate.
Adding Rue to Green Bean Soup somehow make it taste better. Then again, it is very subjective, just like cheese and durian. I suspect some day, Green Bean Soup with Rue will also died with me.
To add some romance to this simple dessert and hopefully to catch a glimpse of the first full moon of the New Year (Chinese's Valentine's Day). I created a heart with some coconut milk for hubby's serving.
Happy Valentine's day dear.
I am also submitting this to
Aspiring Bakers #4: Love In The Air (Feb 2011)
hosted by Cuisine Paradise.
What you need:

250g Green Bean
1 stalk of Rue (throw away the stem)
40g sago (optional), soak for 10 mins and drain
Sugar to taste (I used thai palm sugar)
500ml + 250ml Water
4 stalks of pandan leaves
Coconut cream (optional)
Method:

Add green bean, pandan leave and water. Brisk boil for 20 mins.
Add in the other part of water and continue boiling till beans are "open".
Add in sago and continue to boil till sago is done.
Add sugar to taste and coconut cream.