This dish,
123 Spare Ribs
was taught to me by my mom (who learnt it from somewhere) around 12 - 13 years ago.
When I was still staying at my first matrimonial home, I attempted it once and eversince, this recipe was shelved. Though it looked really simple but I personally feel that it needs to be modified as it is either too sweet or salty for some people.
What you need
600g spare ribs
1 tbsp vinegar
1 tbsp sugar – adjust accordingly
3 tbsp wine
4 tbsp soya sauce (less salty type) or deduct to 3 tbsp
½ litre of water
Method
Heat wok with a little oil. Seal meat.
Add in the sauce and once boil, turned down heat and slowly simmer till meat has soften.
Stirring occasionally to avoid burnt.
Note: Adjust the sweetness last.
I had bought a box of frozen prawns and was wondering how is the quality as this was my first time trying out. I decided to cook quickly it just in case I need to top up my fridge before the CNY holiday.
Took this recipe from Zarina's Home Cooking, my first attempt at South Indian cuisine,
Pepper Prawns
.
Verdict: Thumbs up from both son and hubby.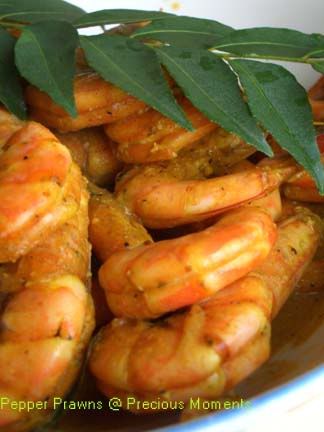 What you need
600g medium sized prawns - shell, devein
1 1/2 tsp turmeric powder
1/2 tsp ground black pepper
4 tbsp of tamarind juice
Marinate the prawns with above for 1 hour.
2 tbsp oil
2 tbsp minced garlic
2 spring of curry leaves salt to taste
Method
Heat oil, add garlic and curry leaves. Fry till fragrant.
Add in marinated prawns and fry till dry.
Season with salt.