Tonight's reunion dinner at my in laws, I contributed my mom's famous
braised mushrooms
. I am glad that I got favourable comments on the dish. This dish is one of my mom's many nice dishes that she can produce. We simply love it.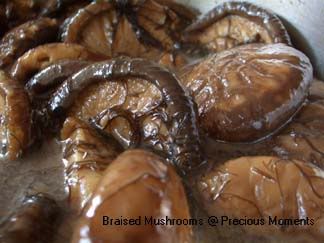 What you need
400g mushroom (wash and remove steam, soak over night in hot water)
dried oyster (soak about 10 mins and clean)
4 X 5 inches spare ribs
4 tbsp cornflour
8 - 9 tbsp ginger juice
4 tbsp oil
1 1/2 litre of water
1 tsp light soya sauce
Oyster sauce to taste
Method
Marinate mushrooms with cornflour, ginger juice, oil. Set aside for 10 mins
Put mushrooms and water and boil for 1 hour.
Marinate oysters with light soya sauce and a few drops of oil.
When the mushroom has softened, add oysters and spare ribs to mushroom stew after it has been cooked for 1/2 hour.
Turned down heat to low and slowly simmer for an hour till spare rib has soften.
Seasoned with oyster sauce and salt.
Note: you can put in Fatt Choy only the last 5 mins of cooking.
My mom also make some
pickles
for me to bring over, unfortunately none knows how to appreciate it. So I bought it home again.
Personally, I feel it is nice and spicy. Good appetitiser.