My blog is really not a full pleged food blog as it sometimes document precious moments in my life. So I seriously don't consider my blog as a food blog.
Thus when I was invited by Sharon from
Chouzhou Inn
to do a food tasting, I was actually taken by surprise.
Of course I felt flattered but I was feeling a little concerned whether I should take up this offer. After all, I am not such a great writer like many of the food bloggers out there.
My hubby was very encouraging. He said that I should open up and explore. The thought of eating authentic Teochew cuisine was enticing to me. Of course, I can always go there on a personal note with my family but being invited is something different.
The owner of this restaurant also runs the Fish and Co which is our regular haunt when we were staying near Novena.
So I was curious to see whether it will become our favourite haunt as I do go to Parkway Parade on a weekly basis.
The restaurant frontage as well as the interior was beautifully done up.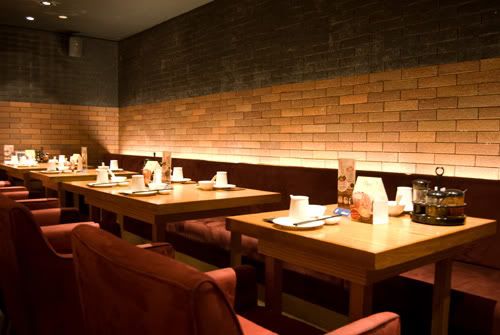 There were three good sized private rooms that allows you to sit from 10 - 12 pax for each room. It can also open up into one and it is upon first come first served basis.
With me, there were
Dreamers Loft
,
Passionate about Baking
as well as a member from OMY.
We had dim sum items that Chou Zhou Inn offers as their Ala Carte High Tea Buffet. It has around 28 items for you to choose from.
We had
Steamed Spinach Dumplings with prawn and dried scallop
@ S$4.50
The skin was incredibly thin which reflects the skill of the chef. There was a nice portion of spinach as the name suggested. The water-chestnuts also brought out the sweetness as well as a good crunch but personally I find that if there were more prawns and dried scallop in the filling, it will be better.
Braised Pork Belly Bun Chouzhou Style
@ S$3.60
The texture of the bun has this stick in the mouth feel but the braised pork was beautifully cooked. The first bite has this melt in the mouth feel and then followed by the soft lean meat. This is good as these days, we are more concerned about fats intake. These buns could have been better if it has more sauce to it.
Pan Fried Black Sesame Cake
@ S$3.90
These little mochi were served warm. A strong aroma of roasted black sesame hits you before you bite into it. The sweetness of the red bean paste is just nice. A good balanced of red bean with the mochi and a nice crunch of sesame seeds added to it. Definitely one of my favourite.
Double Boiled Old Yellow Melon Soup
@ S$8.00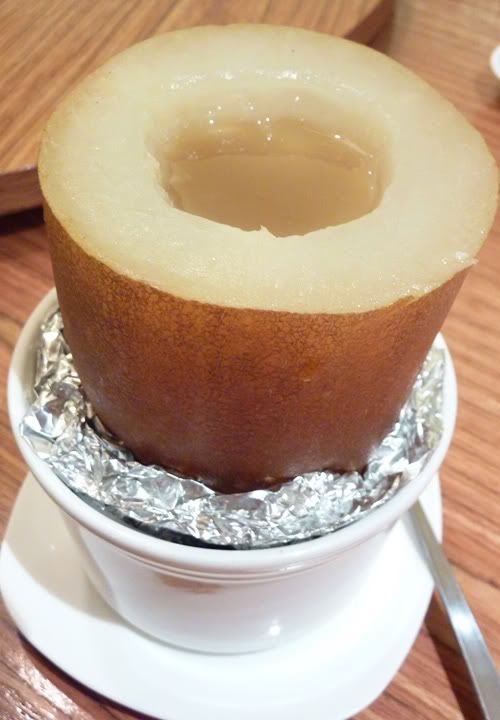 Though I doubt this is part of Teochew cuisine, I would say that the soup was cooked really well. The ingredients were fully infused into the soup.
I like the idea that the pork, mushroom and prawns that were evenly cut into bite size matches the size of the lotus seed and can be eaten together with the soup.
The presentation also helps to keep the soup warm even after a few courses. I think it will look better if the melon is slightly smaller,
For
Barbecued Selection
@ S$10.00, we had Braised Platter Chaozhou Style. It consists of Braised Duck, Braised duck wings and on a bed of braisd tofu.
The duck meat flavour was intense and reflected a good Teochew braise. The level of saltiness was just nice and the duck didn't have this gamey smell. Thus for those who dislike ducks, you might want to give this a go.
Gizzard on its own doesn't have any taste to it but done with this method, it is good. It would have been better if not overcooked.
I would prefer this platter without the duck's wings as it has more bones than meat.
I am not sure whether taukwa is usually used for such braise but for Chouzhou Inn, they used silky tofu. It goes really well with the sauce.
Steamed Pomfret Chouzhou style
@ S$12.00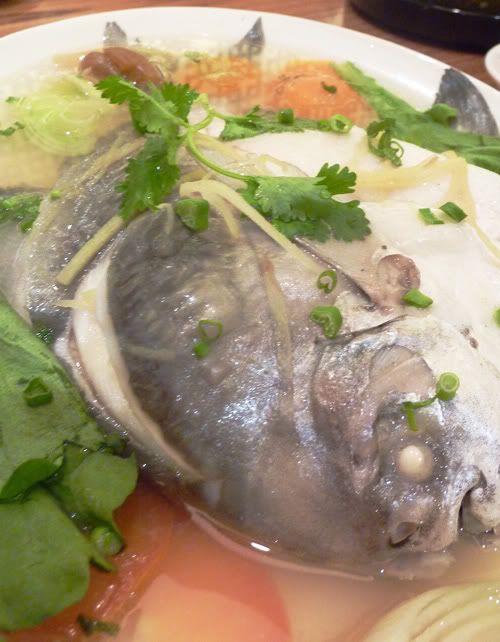 For this price, the fish is really value for money. The clear broth is a good balance between sour, sweet and salty. The fish's flesh is really thick. The broth shines in this dish!
Battered Fried Oyster
@ S$8.00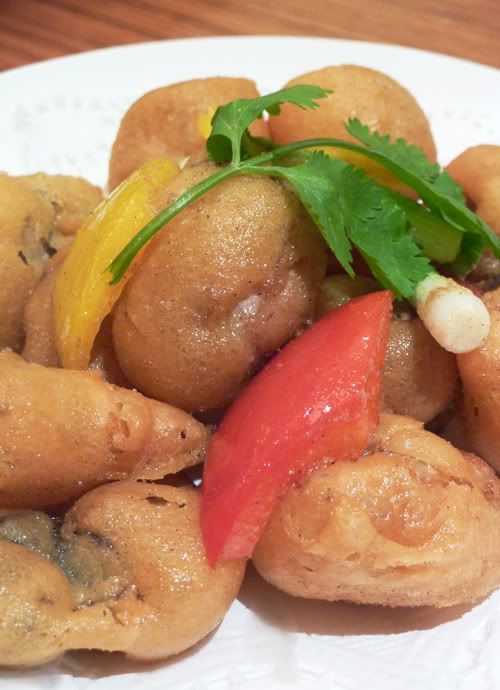 The batter is what you can find in Fish and Chip. As oyster cooks really easily, it is hard to bring out the juiciness of oysters. I suspect the addition of strong pepper and salt was added to mask the taste as some people might not like oyster.
Chao Yang Four Treasure Vegetables
@ S$9.00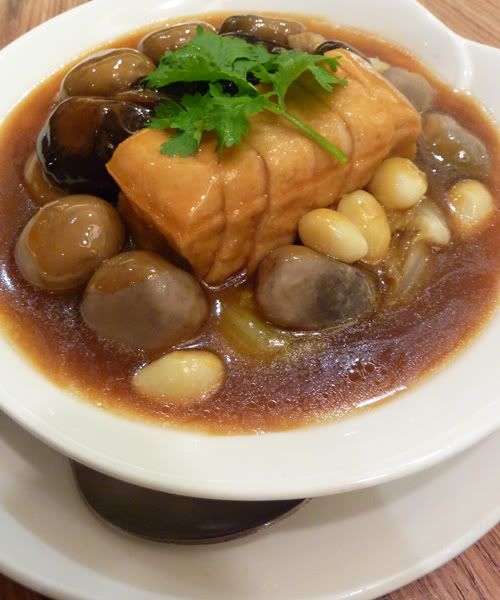 This was cooked with a combination of straw mushroom, beancurd, cabbage, lotus seeds and gingko nuts. The cabbage added sweetness to this dish and I think it will be nice to have silky tofu instead of taukwa. Having the stem removed from the gingko nut will not leave a bitter after taste to the mouth as well.
Pomfret Porridge Chaozhou style
@ S$12.00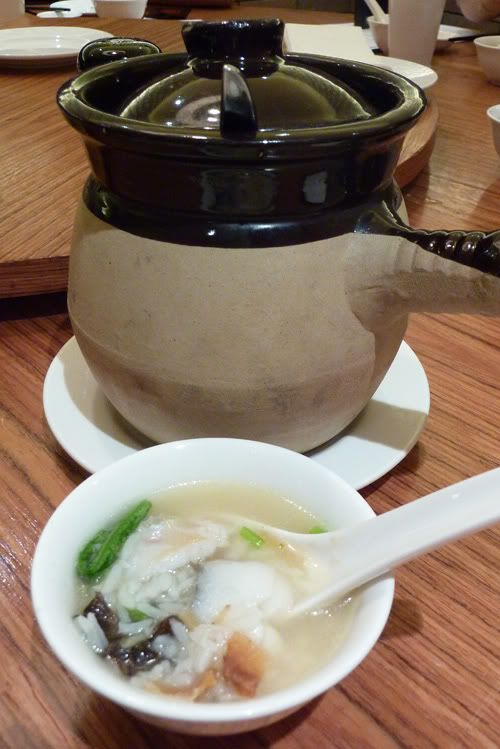 It came in a tall clay pot. I think the fish was done rather well as it was not overcooked. Bits of flat fish further enhanced the light clear broth. Overall, it was very flavourful. Another of my favourite.
For dessert, we had 3 selections.
Yam paste with gingko Nut and Pumpkin
@ S$4.90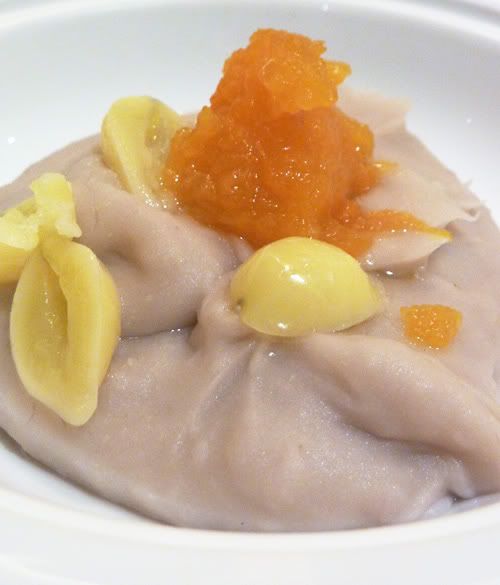 I loved this. First of all, it was not tooth aching sweet and I didn't see any thick layer of oil floating round it. Best of all, it was not dosed with coconut milk which made me love this smooth yam paste even more.
This
Sweet Potato Paste with pineapple
@ $3.20 is Chouzhou Inn latest creation. Unfortunately, it was extremely sweet. I sensed a hint of dairy as well and it was confirmed that butter was added to it to give it a smooth texture.
If the sugar was omitted, I am sure it will make a delicious dessert as it was light and smooth.
Homemade Soya Beancurd
@S$4.50/2 pax, S$7.00/4 pax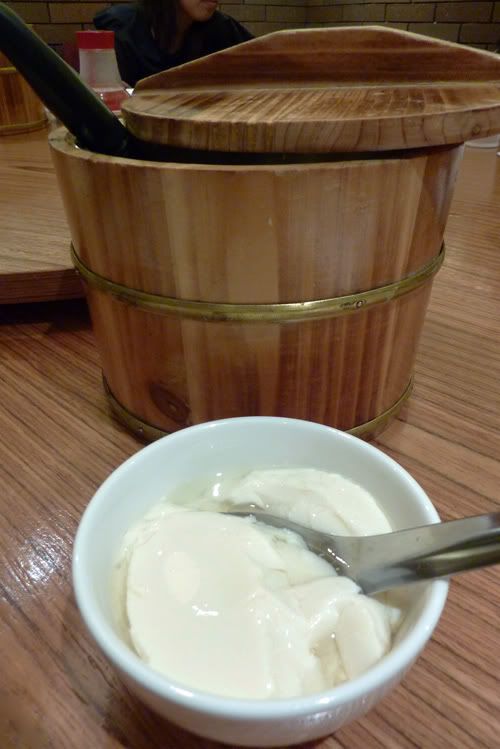 This is served in a little wooden bucket. The texture was very smooth which I liked and there wasn't a hint of gypsum to it. A bottle of syrup was served together with this and thus you can adjust the sweetness to your own liking. It would have been great if the syrup had more pandan infused taste to it.
Chouzhou Inn also has a
Lunch Special
. At S$6.90 for a main and a soup, this is really a good deal. Currently on their menu, they have:
Steamed Rice with Spare Ribs
Steamed Rice with Sesame Chicken
Steamed Rice with Chinese Sausage & Waxed Meat
Steamed Rice with Salted Fish & Minced Pork
Soup changes on a daily basis.
For this week, there is
Steamed Rice with Spare Ribs and a Wintermelon soup
.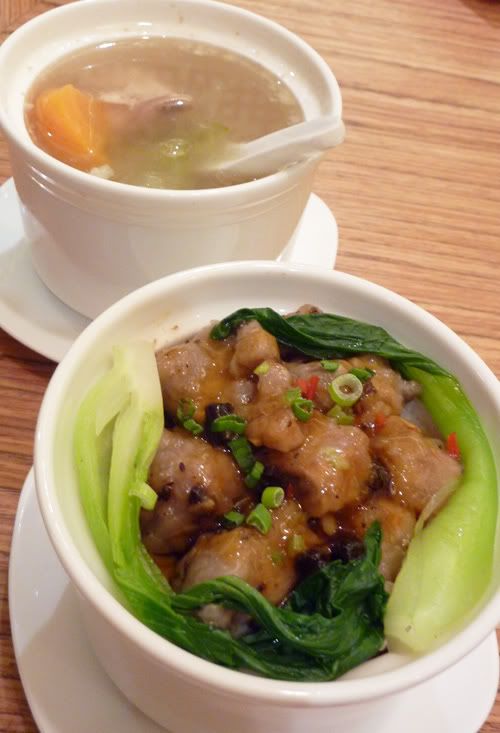 I find that the spare ribs has this slim feel as it is coated with too much starch and a tad too salty to my liking but I do admit that the sauce goes really well with the rice.
For the soup, I expected a stronger taste of wintermelon than carrot. Nevertheless, the sweetness of the meat did a good job for this soup.
Overall, I am pretty pleased with the food. Will definitely bring my Teochew hubby and family to try this out again.
Chouzhou Inn Restaurant
80 Marine Parade Road
B1-84D
Parkway Parade
Singapore 449269
Tel: 6346 6617