When J wrote and invited me to a blogger's get-together, I was delighted. Afterall, though the blogging world is humongous but my contact is limited as my blog is not those high traffic flow type and I really know only limited bloggers.
So when J created an opportunity for me to meet new bloggers, I gladly took up her invitation.
Though I only know two out of the 8 bloggers that were invited, I warmed up to the rest quickly. After all, we all have something in common and that is the passion to bake or cook.
With Lunar New Year festival over, I had a few days to think what I wanted to contribute to this little party of ours.
I flipped through books that I loaned from the library and my own mini collection. There are just too many to choose from that I don't even know what to bake.
In the end, I opted for these
Kokken
's Sweet Crust Pie and since I had a bottle of lemon curd, I might as well use it. I also wanted to attempt on blow torching meringue as C had given me this blow torch as Christmas present many years ago but I never really gotten to use it.
So tada …. Here is my
Lemon Curd Meringue Tart
.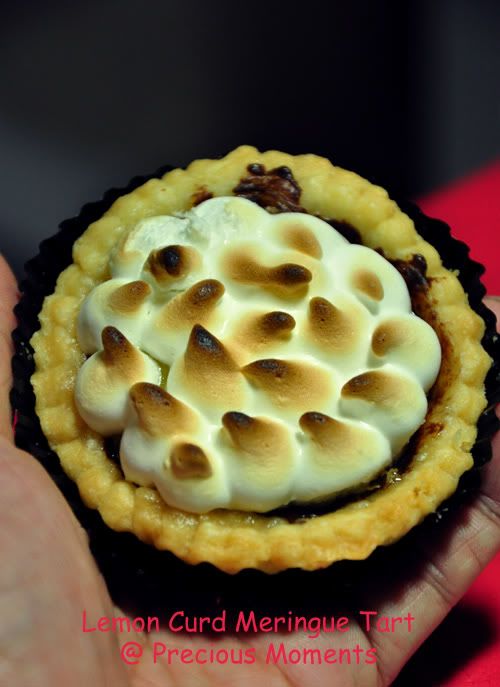 It was a huge success as it was all eaten or brought home by fellow bloggers. I managed to savour one and thus this explains why this picture is so "lonely".
Next is a
Chocolate Mayonnaise Cake
. As it looks so pretty in the book, I just got to try it. This recipe is another keeper.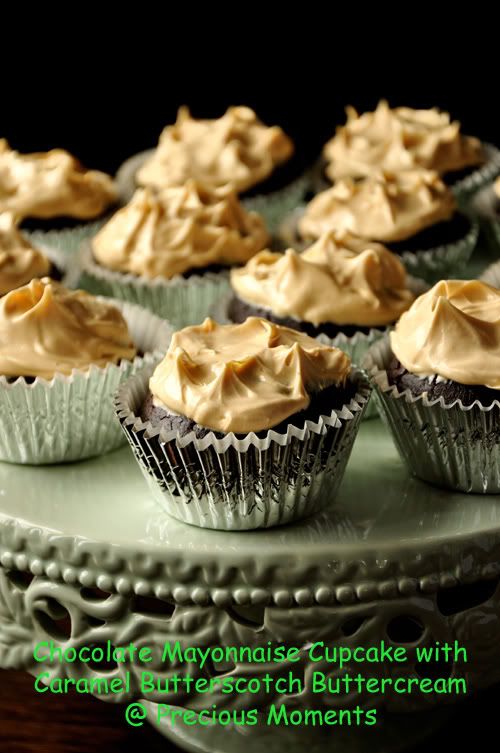 We chatted the evening away and enjoying each and everyone's company and food contribution. Now, let's take a glimpse on our feast.
Baking Library

Lemon Cream Cheese Cupcakes

Brownies

The Sweetylicious

Mango Cheesecake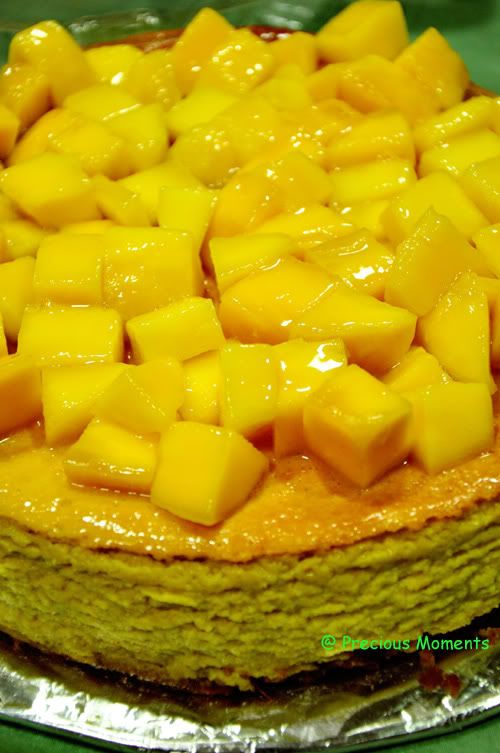 Fried Nian Gao Spring Rolls

Jelly Hearts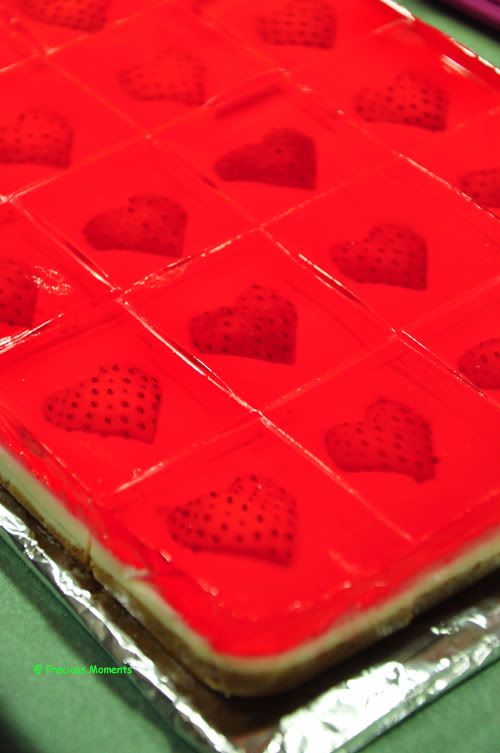 Sugar and Everything Sweet

Pomelo Salad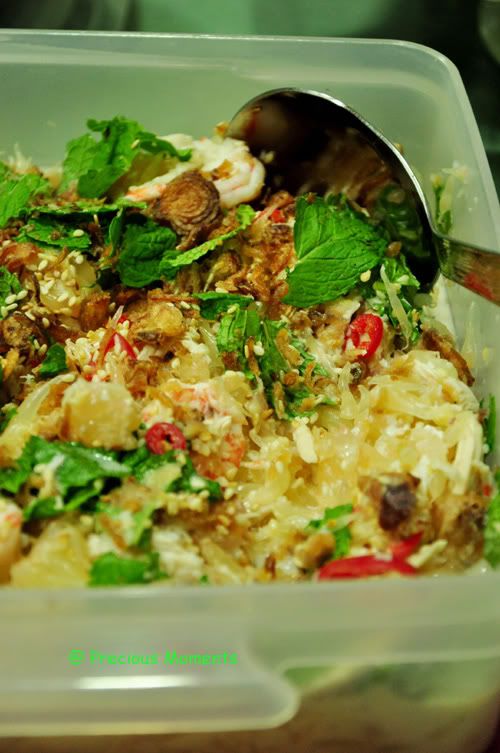 Nom I Must

MeatBalls
Wen's Delight

Durian Swiss Rolls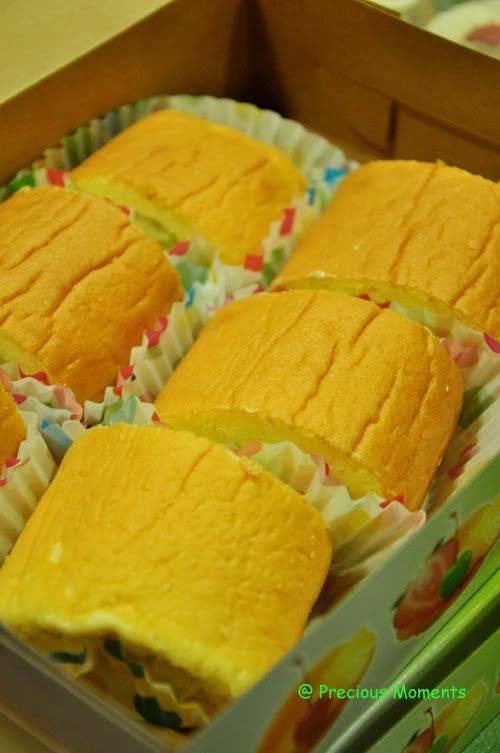 Durian Chiffon

J3SS's Kitchen

Lemon Bars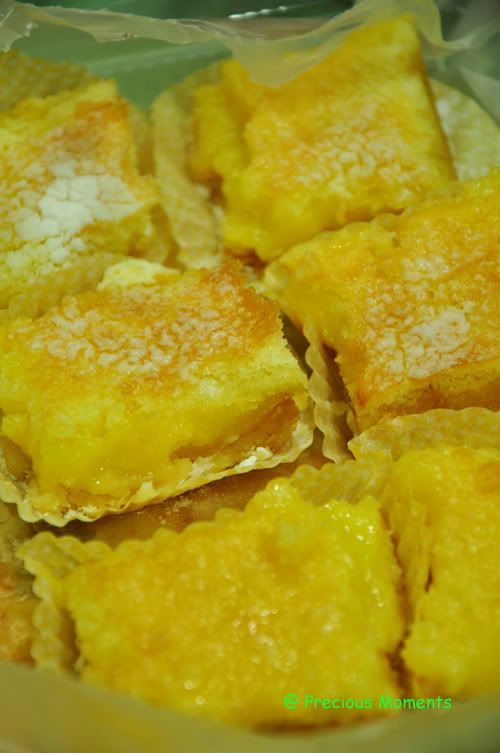 Cathy's Joy

Chocolate Madelines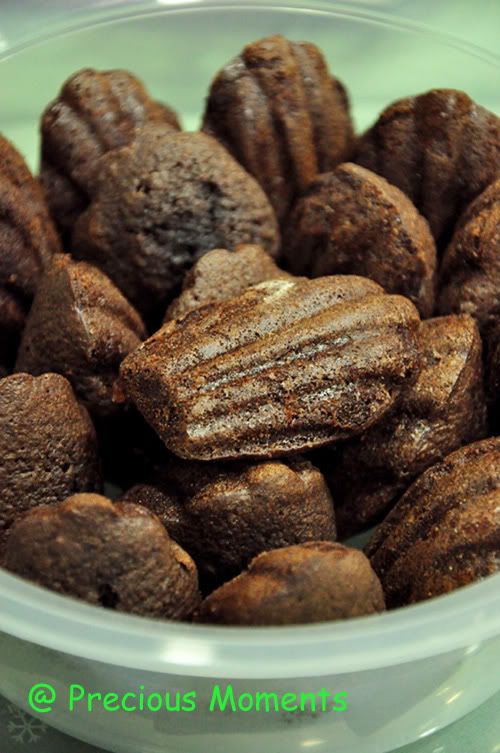 Macaroons

DDL Cupcakes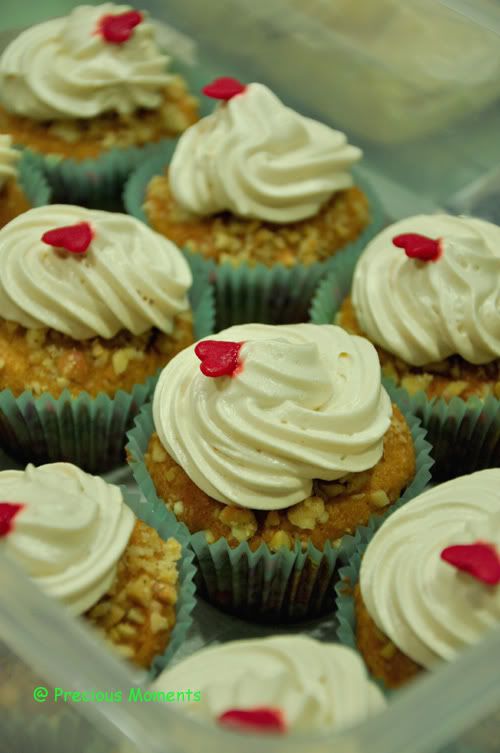 Thanks all for a wonderful evening. It was a pleasure knowing you.
Sweet Crust Pastry

What you need:

400g unsalted butter, chilled and cut into 1.5cm cubes
20ml vinegar, chilled (used up all) – but I didn't on first attempt
100g caster sugar, chilled
170ml water, chilled
665g plain flour, chilled
5g salt
Method :

Mix vinegar and sugar in a bowl. Add water stirring well until sugar dissolves.
Mix salt with flour. Toss butter through flour. Use fingertips to rub the butter into the flour to partly combine.
Turn out floury mix onto a a clean work surface. Sprinkle vinegar/sugar/water mixture over the dough. Use the palm of your hand to smear this mixture away from you across the work surface. Gather into a ball again and repeat the smearing process 2 more times.
Divide dough into 2 and flatten into a thick disc and chill in refrigerator for at least 1 hour. (I left it overnight)
Remove dough from fridge and on a lightly floured board, roll out dough to about 3mm thick. Using a 11cm round cutter, cut rolled dough into individual circles to fit over a 8cm tart case.
Line (5) onto a buttered 8 cam tart case and chill in the fridge for about 20mins.
Blind bake (6) at 200C for 25mins.
Chocolate Mayonnaise Cupcakes with Caramel-butterscotch Buttercream

What you need:

260g plain flour
75g cocoa powder
1 tsp baking soda
200g castor sugar
2 large eggs
226g mayonnaise
2 tsp vanilla
1 1/3 cup boiling water
Caramel butterscotch buttercream
Method

Preheat oven to 180 degree celcius. Line muffin trays.
Sift flour, cocoa powder, baking soda and salt. Set aside.
Combine sugar and eggs and beat until light and fluffy.
Beat in the mayonnaise and vanilla.
Beat in half the flour mixture until combined.
Add half of the boiling water and beat till batter is smooth.
Add remaining flour and beat till combined.
Beat in the remaining water.
Divide batter and bake for 18 – 22 mins.
Cool and frost with buttercream.