I think because I am always out under the hot sun and lately had not enough fluid to hydrate my body, I was suffering for a week of bad ulcers. As I am not someone who has ulcer often, I was extremely moody. I don't feel good swallowing and eating and that bothers me.
Finally I was able to locate my sore as it is not visible initially. I guess it has gotten big enough for me to spot it.
It was a challenge when hubby tried to apply medication for me as we don't have the proper tools to reach the sores.
Anyway, I am a little happier today as the pain has lessened. So I restart my engine and continue with my cookie baking. After my last batch of cookies, I wanted to try
Fried Green Pea Cookie
which is so raved about that I just want to try it. I love peas. I love it in practically everything.
For the fried version, I love it coated with wasabi. Yum.
In fact, last week, I actually waited for an hour for a baking supply shop to open as I don't really fancy going down there in the afternoon as it is hard to find a parking lot. Also I didn't want to go home and then out again just to pick up a bag of flour.
It was a mistake as I should have called them the day before. They are out of stock for this item. Then I went to a nearby supermarket to look for it and it too was out of stock.
I had a hunch that everyone is baking this for this New Year. LOLz. Yes, I finally found green pea today!
I have done two batches, one with green pea and another with Green pea coated.
These are what I churned out. Hubby prefers this one as it is saltier.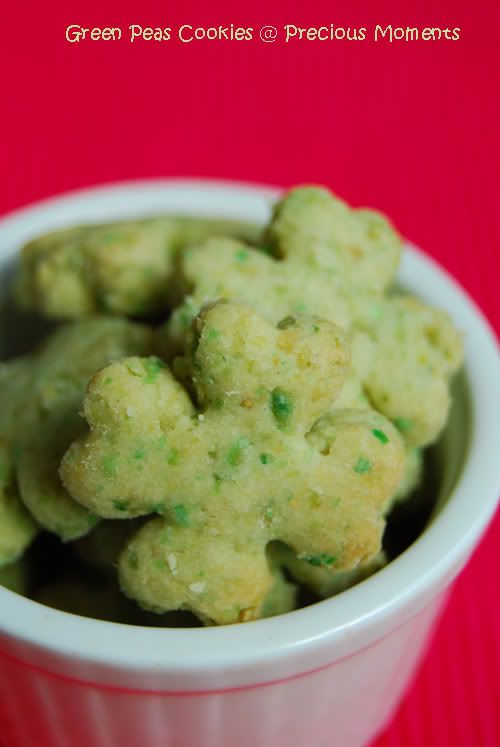 This is coated green peas which I find the dough drier.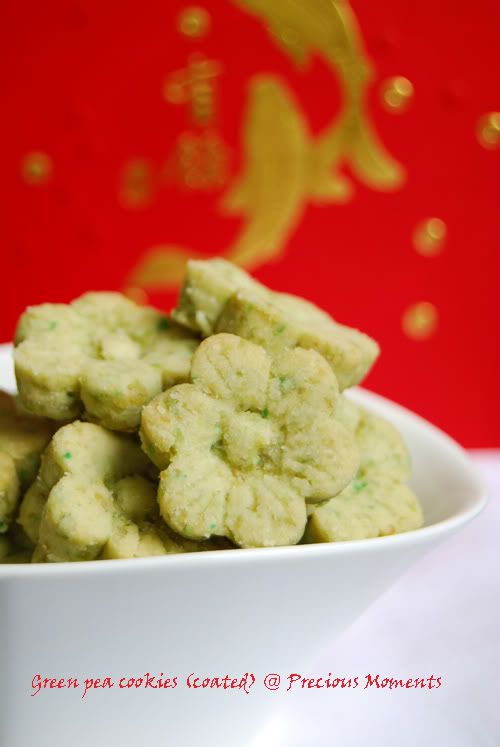 Adapted from Y3K New Year Cookies Book – Alan Ooi
What you need:
130gm deep-fried green peas (milled) without coating
100gm icing sugar
1/4 tsp salt
150g plain flour
100g groundnut oil
Method
Preheat oven to 170 ˚C.
Sift icing sugar and plain flour into a bowl.
Add all other ingredients and mixed well except the groundnut oil.
Add in groundnut oil and mix to form a dough.
Roll dough in between plastic sheet and cut out cookies.
Bake for 15-20 mins till well-baked.
Cool on rack and store.
********************
Next on the list is
Nestum Cookies
.
I saw
Corner Cafe
making this for the Lunar New Year and I decided to change my cookie list.
After all, Nestum is my favourite and it was one of my childhood food. My mom used to mix this with a cup of hot milk. I love mine thick and gluey.
Unfortunately my kids don't share the same taste as me. They find it disgusting.
The smell of Nestum cookie baking in the oven is heavenly. Thanks SD for sharing this.
I have a bag of mochi flour given to me by NH before she left for China. Didn't want to waste a bag of expensive flour. Imagine S$7 for only 200g. Thus I went on to research for a recipe.
I didn't have a good result with Mochi Bread (from past experience) so I chanced upon Mochi Cake instead.
I have never eaten a mochi cake before and I was very curious to try when I saw
Lemonpi
's.
Mine definitely not nice looking like hers. I can't really describe the texture, it is more like our Malay kueh yet it doesn't have that coconut taste. Hubby said it tasted like butter cake.
Perhaps I was added 20g more of evaporated milk by accident.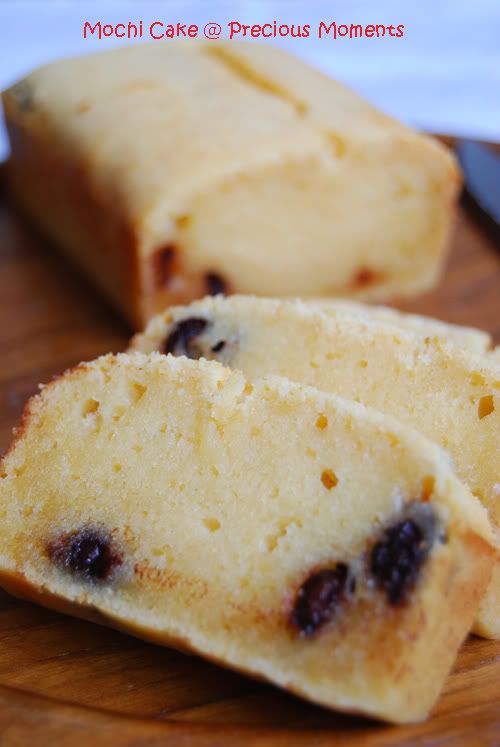 If you are curious enough, try it.
What you need:
225g mochiko flour (Thai glutinous rice flour also can)
85g unsalted butter, melted
165g castor sugar
187g evaporated milk
2 eggs
1 tsp baking powder
1 tsp vanilla extract
Handful of chocolate chips (you can add fruits or red beans)
Method
Preheat oven to 175 ˚C. Grease and lined 12 X 8 X 1.5" baking tin. (I used two small loaf tin)
Sift mochiko flour and baking powder.
Whisk the eggs and sugar until light and fluffy.
Fold in the melted butter and then the evaporated milk and vanilla.
Fold in the dry ingredients and chocolate chips.
Pour the batter into the baking tin.
Bake for 20 – 25 mins.
Cool the cake on rack and then remove from tin.