Mom called last week to ask when I will be making my cookies. To be honest, she rang at the wrong time as I was busy fulfilling Cupcake Fantasies commitment.
I wasn't ready to discuss with her about my Lunar New Year cookie list. As this year, my cousin J rang to tell my mom that they want to come over to my parents' house for our annual gathering. Thus my mom will need to prepare more snacks to welcome the guests.
To avoid tiring her, I have been volunteering my "service" to get the cookies tray filled for the past few years. So I spent the Sunday, drawing up my cookie list.
Set aside pineapple tarts, I didn't want to bake any cookies that I know I can sample from other's household. I wanted something different, I remembered there was a year that my cookies list was different but yet I didn't want to reattempt those.
I wanted to try something fresh and new.
Thus here is my list:
Dragon Cookies 龍餅
Green Pea Cookies 绿豆饼
Macau Almond Cookies (bite size) 澳门杏仁饼干 - as hubby bought back some really good almond from Korea.
Ginger fingers 姜饼
Crumbly cashew cookies 腰果曲奇
Crackle cookies Malted milk and oat cookies
Since I am at this, I hope to bake some cakes too if time permits.
Chocolate Fudge Cake (another Lana's version)
Steam fruit cake (let's see whether I can sustain that 4 hours steaming time)
Sugee cake
So my list is ready and I am itching to bake. We haven't eaten bananas for a long time. When I picked up a brunch few days back, I didn't plan for it to be eaten raw.
I wanted to bake a cake out of it. Yes I was thinking of
Chocolate Banana cake
!
While I was on the internet searching for a good and reliable recipe, I started to feel sleepy. That is because we had a late night out celebrating my birthday in HH's house.
Soon I will be hitting my menopause year, boy I sure feel that I am getting old and I heard that I will be definitely a difficult person to live with. I better prepare mentally and sound out my hubby and kids but I am not going to remind myself that age is catching up on me. LOLZ.
I am going to live it to the fullest! After a nap, I felt so refresh that I decided to bake not just one cake but two! Yes I want to do a comparison to see which is the best choice.
I have chosen two because I love it when they DON'T provide recipes in cups measurement!!! Weighing is more precise and I don't have worry that I won't be accurate or not.
Here you go, Chocolate and Banana Cake by
Nigella
.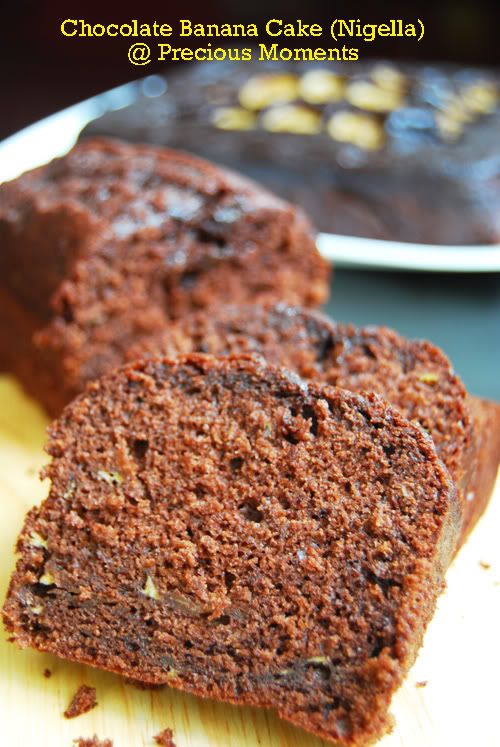 What you need:
75g chocolate
110g soft butter
125g caster sugar
2 eggs
125g self-raising flour
1 tsp baking powder
1 rounded tbsp cocoa
2 medium bananas, peeled and mashed (really ripe ones are great for this)
Method
Preheat the oven to 180oC/350oF/gas 4.
Line with parchment paper a 900g loaf tin.
Melt the chocolate in a low oven, microwave, or in a bowl set over a pan of barely simmering water.
Cream butter and add the sugar, and beat well.
Add the eggs one by one, beating all the time.
Add the sieved flour, baking powder and cocoa, followed by the melted chocolate and the mashed bananas.
Stir to bring together.
Pour into the prepared loaf tin and place in the preheated oven.
Bake for 50-55 minutes, or until a skewer inserted into the middle comes out clean.
Cool in the tin for about 5 minutes before removing.
******************
The second was from my favourite site,
Joy of Baking
.
What you need:
300g granulated white sugar
245g all-purpose flour
75g cocoa powder
1 1/2 tsp baking powder
1 1/2 tsp baking soda
1/2 tsp salt
2 large eggs
1 cup mashed ripe bananas (about 2 medium sized bananas)
240ml warm water
120ml milk
120ml canola oil
1 1/2 tsp pure vanilla extract
Method:
Preheat oven to 180 degrees C and place rack in the center of the oven. Butter, or spray with a non stick vegetable spray, a 9 x 13 inch (23 x 33 cm) pan. Set aside.
In a large bowl whisk together the sugar, flour, cocoa powder, baking powder, baking soda, and salt. Set aside.
In another large bowl, whisk together the eggs, mashed bananas, water, milk, oil, and vanilla extract.
Add the wet ingredients to the dry ingredients and stir, or whisk, until combined. You will notice that the batter is quite thin.
Pour the batter into the prepared pan and bake for about 35 to 40 minutes or until a toothpick inserted in the center of the cake comes out clean.
Remove from oven and let cool on a wire rack. When completely cooled, frost with ganache if you want to.
Verdict: In my personal opinion, both are equally good in their own way. I will await JY's verdict.