My little prince is away for three whole days and two nights. Though I tremendously enjoy the peace in the house, I also miss him.
I bet my hubby will be jealous because I don't miss him that much as compared to my boy. It feels kind of strange not having him around making noises.
With boy's absence, my little princess was able to focus better in her studies. Guess there is no one to fool around or to provoke her.
Sometime, having one and having two makes a lot difference. Anyway, this evening was our visiting day. I really wanted to bake something for my baby.
Since he loves chocolate, I shall bake him some chocolate cakes. As time is a factor, I couldn't afford for long bakes, thus I turned them into cuppies. You see, I wasn't familiar with the route so I decided to take the transportation provided by the school.
Thus I have to leave home earlier. (yes, my sister was saying that I needed a GPS, LOLZ).
A good surprise was that we were given a buffet dinner as well. Awesome service isn't it? Upon reaching the camp site, the boys were performing a skit.
After the skit, we were allowed to mingle with our kids. I got to know his classmates' parents as well. It was great because we can exchange numbers and keep each other posted. *wink*.
As usual, my prince had so much fun that he lost his voice. I bet he must be screaming and yelling on his first day. I can see that he is tired but in good spirit.
When it was time for me to leave, he hugged and kissed me!!!! I was shocked because these days, he doesn't display his affection in other's presence. Kisses and hugs are only kept within the household.
Tonight I am definitely going to bed with a warm feeling. As for the cakes, I have chosen two recipes. Both I am curious to find out the textures. These were taken from a forum.
This,
Moist Chocolate Cake
by Arlene Diego (a famous baker), was actually published in a magazine but a member who tried it had difficulties.
Thus I was curious to find out. I proceed the steps with cautious. As the recipe given wasn't complete, I have to go by my experience.
After creaming, the butter texture was more "liquid" than the usual. After adding the flour and milk mixture, I was hoping that it will thicken but the batter became even runnier.
Since I have done only half a batch, I was thinking to myself, won't try won't know, after all it is only half recipe.
Surprisingly, my cuppies rose beautifully. It takes slightly longer than a standard recipe to bake but it was good. Moist, soft and fluffy and I love the deep chocolate colour.
Next time I will definitely pair them with fudge. Next was yet another recipe taken from the same forum.
Personally I think the cocoa is a little slightly under proportion. It yields a light chocolate cake. I will not adjust the sugar and add in a little more cocoa the next round.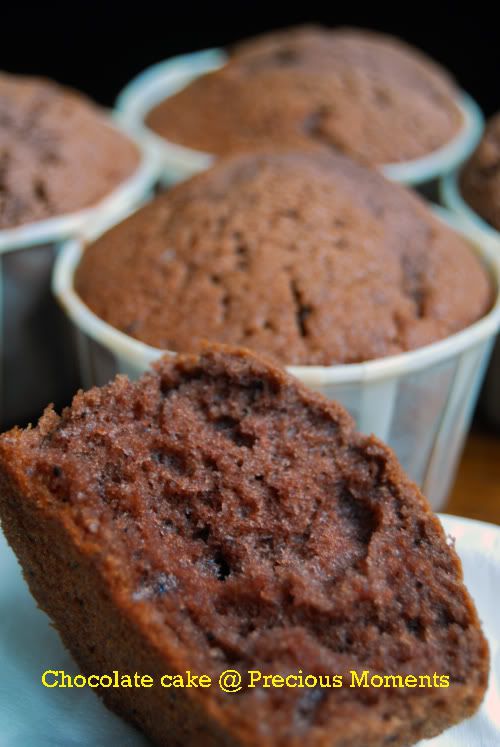 Overall, it wasn't bad. It is still soft and fluffy. I am glad that my boy likes it very much and so do his little friends ... oops I meant young men.