Hubby is down and out. He is hardly sick so when he taken ill, it means that he is really ill. Initially I too had symptoms of flu but after a restless night and a slightly dreary morning, I thought I caught the bugs from him.
Luckily after lunch, I felt much better unlike him. He just needed plenty of bed rest and the good news was that he doesn't get any fever so we are more at ease. Since we are staying home, I might as well do some revision with the kids. I was also getting "bored" and my farm town crop wasn't ready for harvest.
The thought of baking stirred. We also needed some cookies to fill the jar. Initially I wanted to bake scones, cookies and a cake but juggling to coach the kids and to bake is not that easy.
In the end, I gave up on the cake. This
Chocolate chip cookies
is crispy and my kids love it!
In fact, I have to stop my son from eating too much. Don't want any member in the family to become sick. So he was already reserving some for himself to share with his best pal tomorrow.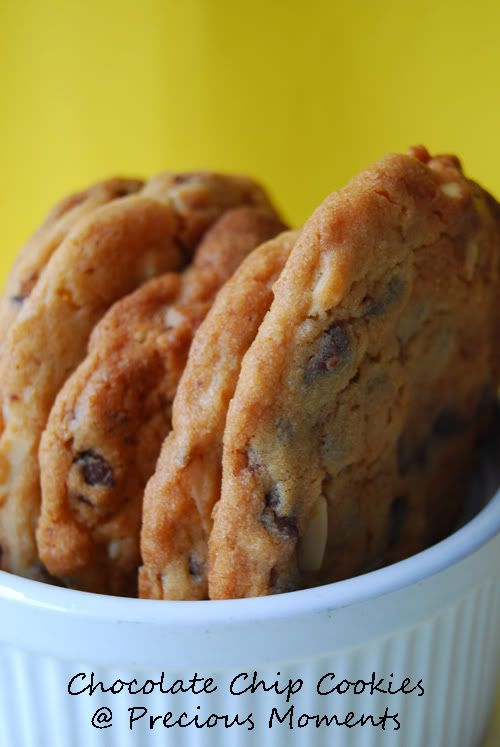 What you need:
186g plain flour
½ tsp baking powder
½ tsp baking soda
½ tsp salt
125g unsalted butter, room temp
110g castor sugar
105g brown sugar
1 large egg
1 tsp vanilla essence
185g semi sweet chocolate chips
125g almond nibs, toasted
Method
Preheat oven to 180˚C, prepare cookie pan.
Sift the flour, baking powder, baking soda and salt. Set aside.
Cream the butter and sugars till fluffy.
Add the egg and vanilla and beat on low speed until blended.
Add flour mixture to the butter mixture and mix on low speed until well mixed.
Add the chocolate chips and almonds and mixed well.
Shape the dough with ice cream scoop and space them 4 cm apart.
Bake cookies till golden brown for approx 12 mins.
Cool briefly on pan and then transfer to cooling rack.
I have been eating plain scones with cream and jam but when I went through my pile of KIV recipes, I saw
Cherry, chocolate and buttermilk scones
, I become curious enough to try it.
Partly I wanted to finish up a tub of dried cherry that I find it too sweet to eat as it is.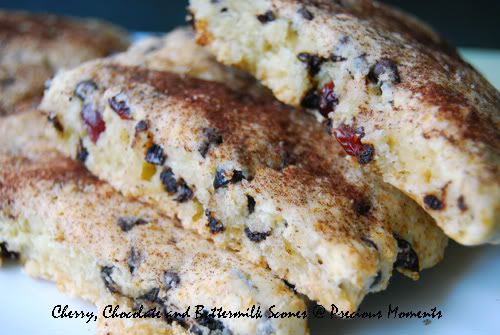 The texture is wonderful as it is moist unlike many "dry" scones that I tried before.
Definitely a keeper.
Next round, I will make it thicker to look more scone like.
Adapted from The great book of Chocolate
What you need:
140g plain flour
140g cake flour
60g castor sugar
2 tsp baking powder
½ tsp baking soda
¼ tsp salt
1 tsp orange zest
115g unsalted butter, cold
90g dried cherries
60g chocolate chips
170ml buttermilk
Toppings:
3 tbsp sugar
¼ tsp cinnamon
Method
Preheat oven to 190˚C, prepare baking sheet.
Mix flours, sugar, baking powder, baking soda, salt and orange zest with a wire whisk.
Rub butter into flour till it forms cornmeal size.
Add in cherries, chocolate chips and buttermilk, stir till the dough becomes wet and sticky. Do not over mixed.
Put into the tray and pat it to form a circular shape (1 inch thick).
Using a spatula, cut into 8 pieces.
Sprinkle the toppings over it and press it alittle to the dough.
Bake till golden brown.
Cool on rack.