After my two last blunders, I am determined to complete my char siew pau trial. The filling has been sitting in the freezer and I really don't want to delay too long. I am curious whether I can really do it too. Perhaps thinking about my kids' love for char siew pau spurs me.
So last night, I went about with the starter dough. Making sure I got the right flour and right time this round. hahahaha.
I needed to be up early to do this trial as my kids are starting their new school term today. So time management must be precise. I timed my starter dough so that it is actually 12 hours to start the process the next day. It was good, because by the time I have completed it with steaming.
I just hit 8:30am! Just in time for my breakfast. hahaha I noticed that my starter dough didn't balloon like as when I was using bread flour. Thus I am unable to tell whether it was a success.
I find that the dough after mixing in the starter dough was a little too dry. I actually added a little more water to it so that it can form a ball. Rolling and filling was really easy. I have no problem.
I based on 40g dough and 20g filling.
I will definitely need to increase it to 30 - 35g next round.
I used an electric steamer, thus I wasn't able to control the heat. Perhaps next round, I will use a wok to steam. I don't know whether it is because of this reason.
The first 6-10 mins of my pau fluff up prettily as you are able to see the pleats. After the 11 - 15mins, my pau's pleats disappeared.
Now it looks like tau sar pau instead. :( I am not sure whether reducing the ammonia will affect the quality of the pau but it definitely didn't give up a nice aroma to the pau. In fact, you have to overcome the pungent first sniff to sink your teeth to the steaming hot bun. Only then, you are able to enjoy it.
Personally I find that the texture of the skin is not what I am looking for. Though it doesn't really stick to your teeth, it has that a little tad too dry feel. I like my concoction of my fillings though. Not too sweet and not too sticky.
I am already eyeing on another recipe found in Jo Deli. Let's see when I will feel adventurous again.
These buns sure didn't come easy. hahahaha
Note: A day old pau:
After reheating in a microwave with a cup of water inside. The texture of the pau remains same as freshly done ones (soft but still dry feel).
I noticed that the smell of ammonia become less noticeable.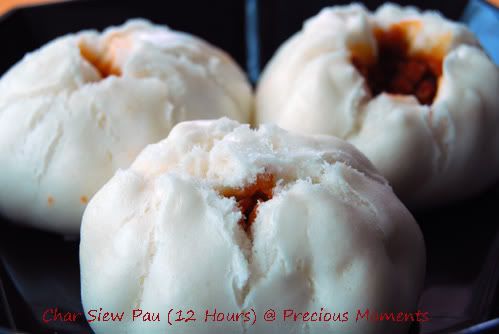 Pau Skin Recipe extracted from
My Home Kitchen
.
What you need:
Starter Dough:
110g tap water
185g Hong kong flour
1/2 tsp Double Acting Baking Powder (I used Dove Brand)
1/8 tsp instant yeast
Mix everything together in a bowl. Cover with a hot damp towel and let it proof inside oven with no power turned on.
Skin dough:
375g Hong kong flour
200g sugar 23g shortening
75g tap water (might need to increase the amount as I couldn't get a ball stage)
20g double acting baking powder
5g ammonia (I will research and see whether I can reduce this amount)
1/2 tsp vinegar (I used distilled vingegar)
Add all the above ingredients to the starter dough. Using a dough hook, mix on speed 3 for 6 minutes. (Mix till the dough is not sticky and form a ball.)
Take out dough and scale to 40g each. (with 35g of fillings)
Shape each piece into a ball before rolling.
Fill with chilled meat filling and steam immediately at high heat for 10 mins)
Note:
1. Maximum proving time for starter dough is 14 hours. Over fermenting will make your baos sour.
2. This recipe will yield 30 buns if you scaled to 30g each.
3. When rolling dough, keep the edges thinner and the centre portion slightly thicker.
4. For char siew baos, steam for 10 minutes.
5. For baos with raw meat fillings, steam for 15 minutes.
6. If making big chicken/meat baos, steam for 20 minutes.
7. Prepare the fillings after you have made the starter dough and leave it in the fridge. (Chilled fillings is easier to handle.)
For the fillings
What you need:
600g lean char siew, diced small
5 shallots, diced finely
2 tbsp white sesame seeds (optional)
Seasonings:
60ml water
1 tsp oyster sauce
1 tsp dark soy sauce
1 tsp sesame oil 1 tssp sugar
1 tbsp corn flour
Method:
Heat wok with a little oil, sautee onions till soft.
Add in seasoning and stir till it becomes thick.
Add in char siew and mix till it is well coated with seasoning.
Mix in sesame seeds and remove.