When I was working in the fashion industry, on a quarterly basis, we do potluck lunch as a get-together event with colleagues from other dept. This dish actually reminded me of P's mommy home cooked Hong Zhao Chicken (红糟鸡). It caught my attention because of the colour. Imagine a pot of chicken soaking in some red dye. It was my first time seeing it as well as tasting it. The memory stayed as it is awesome. Subsequently, this dish always been requested by fellow colleagues whenever we do luncheon again. When I become more worldly conscience of what is being served on the table. I realised that my mom do cook this dish on and off too. Though hers wasn't that red (perhaps her lees was store bought). A few weeks ago, All that Matters gave me a bottle of home made fermented rice wine and lees. She was really kind to set aside a portion of her harvest for me. Harvesting wine needs plenty of patience and monitoring which I think I lacks. (Oh yes, I got a box of that nice warabi from her too. My first time tasting such snack.) Anyway, to put this precious gift into good use. I bought some chicken and decided to prepare this dish. This is the first time my kids having this. Their response wasn't great especially my son. Perhaps it is the colour of the dish. For me, I think it tasted good and delicious. Thanks Rei for the recipe.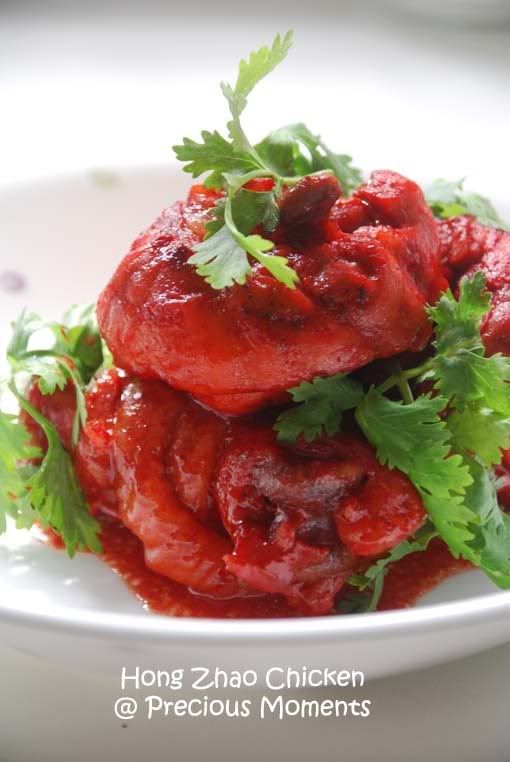 What you need: 5 chicken tighs 1 section Ginger, peeled and julienned 3 generous Tbsp Red Wine Lees 2 Cups Red Glutinous Rice Wine 2 to 3 stalks Cilantro, cut into lengths Marinade 2 Tbsp Ginger Juice 3 Tbsp Red Glutinous Rice Wine 1/2 Tsp Salt Some Sesame oil Addition Some Sesame oil for frying Salt to taste Sugar to taste Red Glutinous Rice Wine to drizzle Method Wash and clean chicken. Marinate chicken with 2 tbsp of wine and ginger juice. Cling wrap and place in fridge either overnight or at least 2 hours. Heat wok, add sesame oil and julienned ginger. Fry till fragrant. Add in chicken pieces to fry. Add in wine and wine lees, stir thoroughly. Seasoned with salt and pepper and bring to a boil, cover and let it simmer for about 20 minutes. Toss in the scallions (I don't take these) and cilantro just before removing from heat. Drizzle some wine, garnish and serve with rice. ************* Enough of sandwiches for breakfast, I decided to bake a
Vanilla apple cake
for a change. This recipe is in the Sweet and Simple Bakes Challenge. Though I find challenges really exciting, the reason I don't take part is that I never know whether I have the time or mood to bake it. It will be such a party damper if I can't participate. Nevertheless, I woke up today with a body packed of energy. A cool crisp morning to begin the day. Yea!!!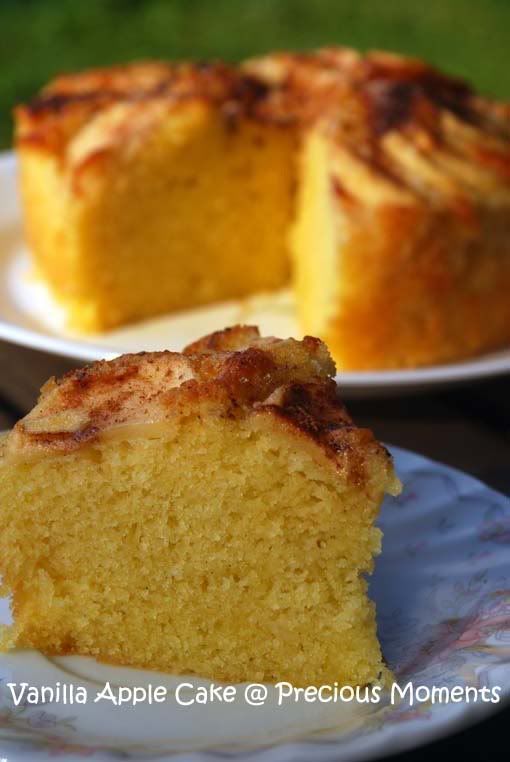 What you need:
250g/9oz unsalted butter, softened, plus extra for greasing 250g/9oz golden caster sugar (or normal caster sugar) 4 eggs, beaten 250g/9oz self-raising flour 1 vanilla pod, split, seeds removed and reserved (or 1 tsp vanilla extract) 3 small Bramley apples, peeled, cored and cut into wedges (or any other type of cooking apple, if not apple of your choice) 2 tbsp Demerara sugar ¼ tsp ground cinnamon
Method:
Heat the oven to 180C/fan 160C/gas 4. Butter a 20cm/8inch springform tin, then line the base with baking paper. Beat the caster sugar and butter together until the mixture turns pale and fluffy. Add the eggs, flour and vanilla seeds, then beat together quickly to make a smooth batter. Pour into the prepared tin, then lay the apple wedges on top, poking them halfway into the mix. Don't worry if the apples appear crowded – they'll shrink as they cook. Sprinkle with the Demerara and cinnamon, then bake for 1 hour 5 mins, or until a skewer inserted into the centre of the cake comes out clean and the sponge is risen and golden. Leave to cool for a few mins, then release the tin and cool the cake completely on a wire rack.