I just need to give myself a hard push to get the ball rolling. After more or less clear up the books in my kids' room. My mind is a little at ease.
My next project will be emptying their wardrobe and getting rid of those outgrown clothings. In the meantime, I revisited my huge stack of to do list.
I have a long list of delicious cakes that I wanted to try, at least from the pictures. I am a pictorial person, I can't absorb fast when things are in words.
I hate reading manuals to learn to operate an equipment. I need someone to demonstrate.
Well, back to my laziness, I tell myself that I must really break from this zoombie spell. Anyway, yoghurt cake has been on my list for a few months as I have never tasted one good one.
As the yoghurt in the fridge is expiring soon and the teeny weeny bits of hazelnut meal that I wanted to finish it up. I got alot of oranges which I wonder why no one eats them? After reading Happy Home Baking and FoodBeam's experiences. This already decided for me.
Yoghurt Orange Cake
it shall be.
Reason because this cake is really easy (in France, 4 years old already know how to bake this cake). Good enough for a lazy bum like me right now.
While in progress, I realised that this method is totally new to me. I couldn't believe how simple the steps are and was pretty anxious to find out whether I can pull it through.
My cake didn't glow like both girls'. I wonder why? Nevertheless, it tasted really good. Soft and moist.
I did an orange glaze but the taste is not obvious partly I think my orange juice wasn't sour thus the tangy taste didn't come out well.
Nevertheless I will take it easy on the glaze the next round as I find it sweet. Next round, I will do a lemony one instead.
This recipe is definitely a keeper if you are short of time and wanted a quick fix of something nice.
Thanks girls for this beautiful recipe.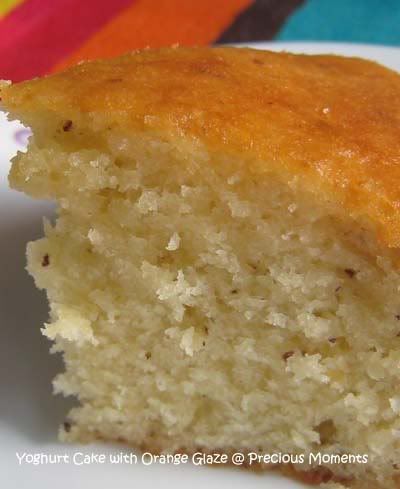 What you need:
125g yoghurt
160g castor sugar
3 eggs
40g hazelnut meal
55g almond meal
140g cake flour
2 tsp baking powder
1/2 cup canola oil
Method
Preheat oven to 180°C. Grease and lined pan.
Mix yoghurt, sugar and eggs in a large bowl.
Add in nutmeals and sieve in flour and baking powder. Mix to combine.
Add oil and mix well.
Pour batter into pan and bake for 30 – 40 mins until golden and skewer comes out clean.
Let cool in the pan for 20 mins before turning it out to cooling rack to cool further.
Prepare glaze and pour over cooled cake.
Posted by Precious Moments @ 8:35 AM :: (6) comments