In the past, my night of fun is always having drinking session and pubs crawling with my bunch of girlfriends. As I ages, those fun is no longer as attractive as having your friends over and getting our hands "dirty" over flour and dough.
Tonight, K whom I befriended in a forum came over and had our night of fun. As I estimated that K won't have enough time to complete our BIG plan as she came over after her work. I thus went ahead and prepared the snowskin dough.
After our takeaway dinner (thanks to sweet hubby), we got into action dividing, rolling and wrapping. Though I have got so many newly acquired moonies moulds, courtesy from hubby.
Due to the time constraint, we found our recent purchase from e's joie's was a breeze to use. We simply love it! If you haven't got one, get one from her for next year.
Anyway, we managed to churn out these babies.
Thanks K for the wonderful night, I had great fun with all these Snowskin Mooncakes. Let's do it again some time soon.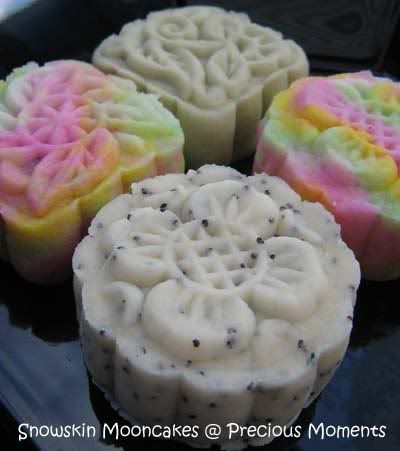 A combination of :
clockwise Green Tea snowskin with green tea fillings. Ice cream soda snowskin with pandan fillings. Orange Poppy seed snowskin with orange and lemon peel fillings. Ice cream soda snowskin with white lotus fillings.
Rainbow Ice Cream Soda Pingpi Mooncakes
What you need:
200g koh fun
200g icing sugar
120g shortening
1 tsp banana essence
320ml ice cream soda
For the fillings:
1kg lotus paste
35g roasted melon seeds
Method
Combine filling ingredients together.
Scale to 85g and shape into balls (according to your mould). Set aside.
Divide dough into 4 portion for 4 colours (pink, white, green and yellow)
Knead in colours.
Roll each coloured dough between two sheets of plastic thinnly.
Stack them together and trim. Roll the front and end of the sheet thinner.
Roll up like a swiss roll and cut into 12 portion.
Flatten and fill in the fillings.
Seal and mold.
Note: Based on 135g mould. 40% skin and 60% fillings.
**************
Orange Poppyseed Pingpi Mooncakes.
What you need:
100g koh fun
100g icing sugar
40g shortening
1/2 tsp orange essence
2 tbsp evaporated milk
10g poppyseed
50ml orange juice
100ml iced water
For fillings
500g red bean paste
20g roasted melon seeds
Method
Combine filling together and scale to 40g.
shaped and set aside.
Sieve icing sugar and koh fun into a big bowl.
Add in shortening, orange essence, milk and poppyseed and knead well.
Drizzle in orange juice and water and further knead into a soft dough.
Scale to 30g each.
Flatten and place fillings.
Wrap and seal. Mold accordingly.