When I stopped working 4 years ago, I wasn't prepared for a sudden change in environment. Someone who so used to having constantly surrounded by people, so used to be having free flow of conversation, so used to be as busy as a bee. Suddenly I felt alone to face the world. That was the time when I started exploring the cyberworld. With limited know how, I was lucky to chance upon this forum and got to know Ly. She soon become a friend who will always be there for me when I am feeling down and out. Her kind words of inspirations and supports is fast becoming my pillar of strength. I really count myself lucky to know her and am truly touched by her sincerity. Tomorrow is her birthday and I decided to invite her over for lunch and bake her some cupcakes. We also plan to have a day of fun experimenting sugarcraft. First I got round to baking a
Banana Cupcake with Chocolate Buttercream
. Didn't do too well with the piping though.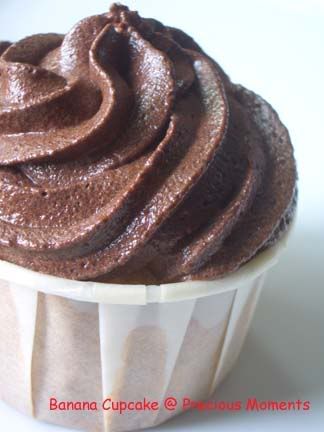 Next we had our lunch of
Mei Chai Rice Cake
. A dish that was taught to me by my neighbour. This rice cake is also known as Shanghai Nian Gao.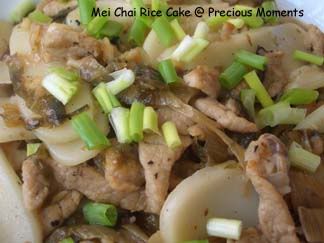 Next, I got round to "dressing up" the cupcakes. I added in some pink teddy bear sprinklers that a dear friend, V, mailed to me. And some red hearts to represent my appreciation. We also started on our sugarcraft experiments. I wasn't really in "top form" for this today, so only managed to produce some ladybug. (sad) Ly, on the other hand hasn't much luck too. I suspected that my dough is not "conditioned". My kids on the other hand, had a great time messing it around!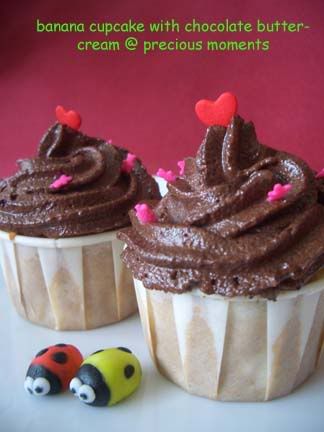 I am happy that at the end of the day, Ly enjoyed her lunch as well as the cupcakes. Happy Birthday Ly!