You need to acquire the taste of bittergourd. To some, they find it really difficult to accept. The strenght of bitterness varies with individual. For my hubby, it takes him many years to finally accept this dish. Bittergourd has its healing properties, it is known as a cooling vegetable. Thus, it is good to dispel "heatiness" from the body. This is my first attempt at
Stir Fry Bittergourd with Beef
. Let's see whether my kids will eat it as they refused the soup version.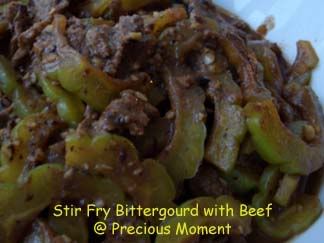 Tofu has always been a hot favourite with my kids. Perhaps they are too lazy to chew. Recently, I was told that no matter what, you need to expose your kids to chewing meat. Reason being, it is an extremely good exercise for the jaw as well for the gums. So when their permanent teeth "sprout", they will be nice and straight. Our
Egg Tofu with minced pork
.