This vegetable, kow gei (in cantonese) is known to "help with eyesight" making it less "cloudy". My mom used to make this into soup with liver. My aunt used to say that if you drink this soup once a week, your eyes will be clearer. Game to try it?
Last week, I found another way of preparing it. Known as
Kow Gei with Salted Egg
, it was really nice.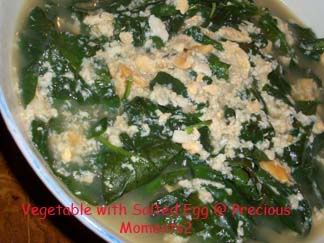 What you need
Kow Kei
2 Salted egg (beaten)
Pork broth or chicken broth
Minced garlic
Method
Saute vegetable with minced garlic
Add broth and then the beaten eggs.
Simmer till vegetable is soft.
Season with pepper.
To make this into soup
.
Shorten the stem into half.
Blanched the pork.
Add the stem (with the thorn) and pork into a pot of water (6 cups) and bring to a brisk boil for 30 - 40 mins.
Remove steam and add in the leaves. Cook till the leaves turned soft.
Season with pepper and soya sauce.