I am a big fan of Tim Sum especially having it in Hong Kong. To date, I don't really recall having done any dishes by myself. After remembering
Judy's
Radish Cake
that I have missed the last time, my fingers are itching to try out.
So I called my mom for her recipe which we had tried during the Lunar New Year and it was delicious.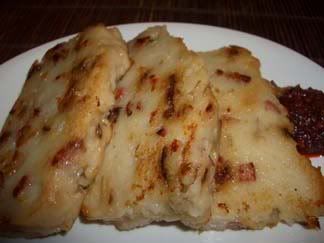 What you need:
907g shredded white radish (strained)
750ml water
76g Chinese sausage, chopped finely
38g dried shrimps, soaked, roasted and chopped finely
3 tsp salt
1 tbsp sugar
2 tsp sesame oil
Pepper
For garnish: 6 shallots, sliced thinly and fried till crispy Spring onions
Method:
Mix together to make batter 340g rice flour 2 tbsp tapioca flour 600ml water
Method:
Combine radish, fried shrimp, sausages, and water in a saucepan and simmer over low heat for 10 to 15 mins.
Lower heat and add batter, stir until mixture thickens
Pour the thickened mixture to a tray and steam at high heat for ½ hour (smoothen surface with either the back of the spoon or spatula..
Test, if not cook, another further 10 mins.
Cool thoroughly before cutting.
Garnish with dried shallots and spring onions.